Supports ALL Clientside Accounting Software
LodgeiT is designed to be accounting software agnostic. Our advanced accounts import and machine mapping allows you to service any client, regardless of their choice in accounting software, easily and seamlessly.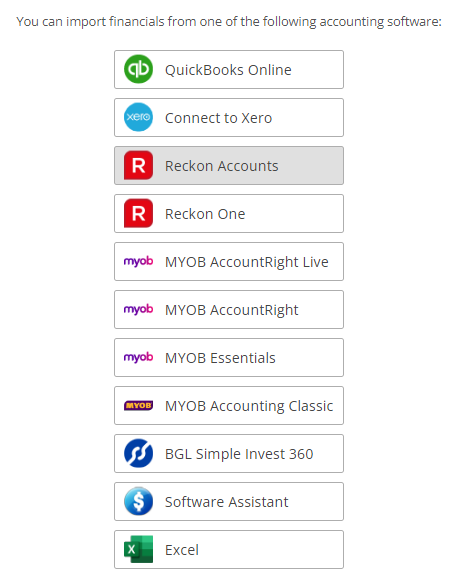 ATO Prefills
Dynamic fills for business financial information directly from all accounting systems
Cross Filling
Cross-filling on spouses, trust distributions, partnerships, dividends, investment income splits including rental properties etc
Audit Trails
Audit tralis to see which team member did what from filling to lodgement
Form Suspension
Form suspension to lock-in a future lodgement date
Data Roll-Overs
Annual data roll-overs for rental property information, deductions & more
LodgeiT provides a range of Smart Calculators that can compute and report things like hire purchase interest per period and the balance splits between current & non current liabilities on unexpired interest Borrowing costs amortization.
Fee from Refund EFT Reconciliations
If you are taking fees from client refunds you'll appreciate this is a toolset you need.
A single import of your client's accounts from any downstream accounting software provides the endpoints for linking your reference documents. With the LodgeiT classifier, cross-referencing can be automated back against our calculator elements
LodgeiT provides forms for years as far back as 2010 for all entities except individuals. ITR's are available for years 2015 onward. LodgeiT also provides depth of form type with a complete range.
As well as accomodating LodgeiT generated documents like signed tax forms, the system allows for any document to be attached. Unlike other systems that operate with folders, LodgeiT operates with tags and dates where a date might be a BAS period. Tags and dates can then help surface documents in a search.​
LodgeiT includes a depreciation reporting module that's integrated with LodgeiT tax forms for a more automated experience. LodgeiT depreciation values also interact with the working papers to provide a reconciliation across the value sets.
LodgeiT is designed to offer bank-level security. We are audited annually and have a certification from an international security organization for our security status.
LodgeiT team controls allow the firm administrator to configure permissions across Client access and add , work including editing, viewing locking & unlocking forms and reports.
You know how annoying it is to run multiple databases. LodgeiT gives you dynamic contact sync control over contacts shared with QBOA - free software for accountants.
Division 7 A interest and minimum repayments
Loan accounts and inter entity reporting
Easy Transfer from Competing Tax Software Platforms
Xero tax, Handi, Thompson Reuters Tax Assistant including APS and others - we allow you to easily export your clientlist from those systems and import into LodgeiT. Read More